How to Treat Whiplash Injury?  Recent literature suggests that early mobilization and return to activity may offer the best chance for recovery.  Since tendons, ligaments, and muscles in your neck stretch from one to three times there normal length.  If left untreated could cause ongoing pain and discomfort down the road for years to come.
Whiplash Injury After Car Accident may become a permanent injury if left untreated.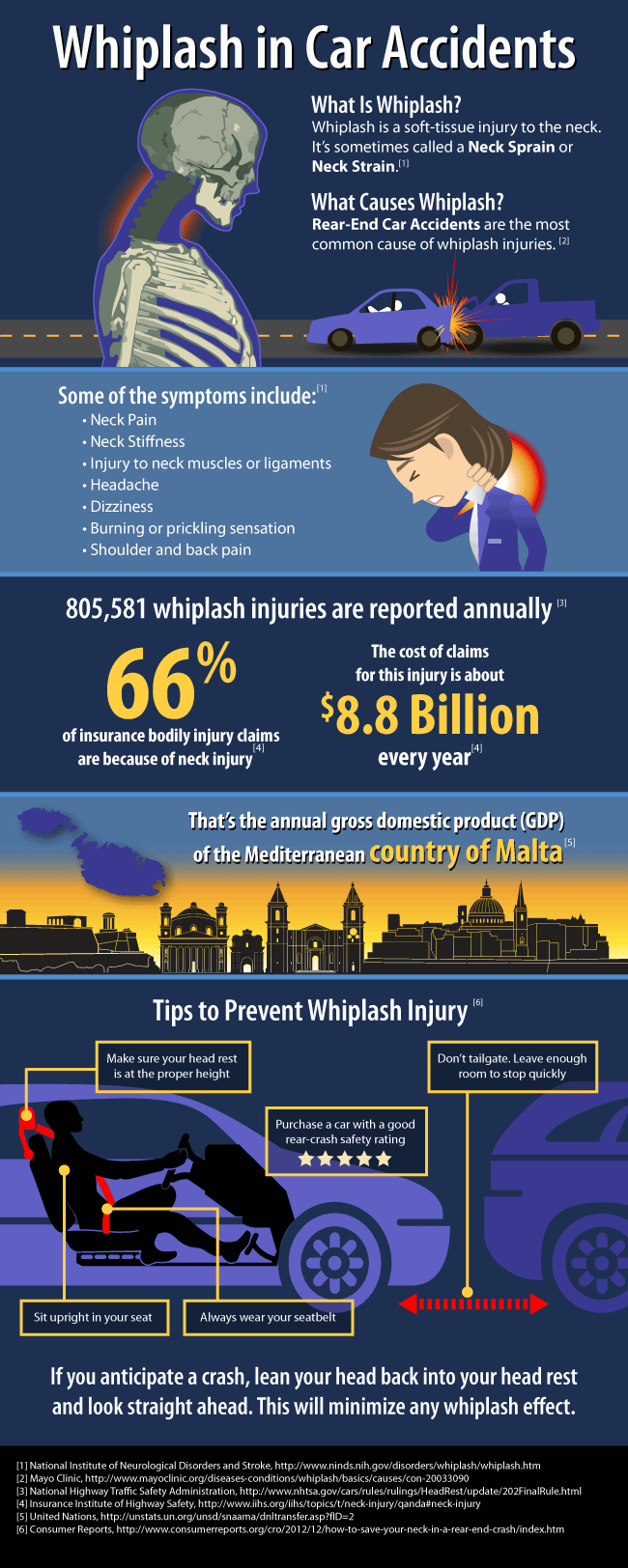 How to Treat Whiplash Injuries
Whiplash injuries are difficult to treat for many reasons. Patients may have complaints of pain or paresthesias in the neck without any radiologic or clinical evidence of injury. Complex interactions of psychosocial, legal, and physical factors make effective treatment highly variable among different patients. Initial treatment has traditionally included a soft cervical collar to restrict the cervical range of motion. Prescription oral pain medication and transdermal pain creams which are very effective in alleviating pain. Physical therapy is the cornerstone of treatment whiplash injury. More recent studies suggest, however, that early mobilization may lead to improved outcomes and that rest and motion restriction may hinder recovery [13].
What is Whiplash Injury
Whiplash injury is commonly known as Neck Sprain or Neck Strain.  Whiplash injury defined as "bony or soft tissue injuries" resulting "from rear-end or side impact, mostly in car accidents as a result of "an acceleration-deceleration mechanism of energy transfer to the neck" [1].  A whiplash injury may also be caused by other injuries such as physical abuse, sports injuries, or amusement park rides.  Whiplash is associated with a wide variety of clinical manifestations including neck pain, neck stiffness, arm pain and paresthesias, problems with memory and concentration, and psychological distress.
Whiplash injury may be caused by
car accidents
physical injury, such as being punched or shaken
contact sports such as football, boxing, and karate
horseback riding
bicycling accidents
falls in which the head violently jerks backward
blows to the head with a heavy object
What are symptoms of whiplash injury
The adrenaline rush-released in an emergency situation masks pain, which means many accident victims do not feel hurt immediately after an accident occurs. But after several hours or days have passed, the victim may begin to notice whiplash symptoms such as:
Difficulties with Concentration
Problems with swallowing
Dizziness and Drowsiness
Vertigo
Headaches
Muscle pain and spasms
Neck pain
Numbness
Pain in the Shoulders
Pain at the base of the skull
Pain in the Arms
Pins and needles sensation
Stiffness
Swelling
Reduced range of motion
Blurry Vision
Hearing Problems
Tinnitus
Weakness
How long do you have to go to the doctor after a car accident?
You have to go to see the doctor within 72 hours to Treat Whiplash Injury after a car accident and obtain maximum settlement compensation. Do not make a big mistake that people make after an auto accident is in having what is called a delay in treatment. Even if you don't believe your injuries are serious. If you delay medical care, the insurance company may use the delay as an excuse to deny coverage. Even more importantly, you want to avoid the serious, long-term complications that can develop if an injury — including whiplash — is not promptly diagnosed and treated.
Because whiplash is a soft tissue injury and not a bone fracture, it doesn't show up clearly on X-rays, MRI scans, or CT scans. Insurance companies are notorious for claiming that whiplash injuries "aren't real," or aren't actually as serious as the injury victim says they are.
Contrary to these dismissive (and inaccurate) claims, moderate to severe whiplash is capable of producing painful and pronounced symptoms that make normal motion completely impossible. Many patients require pain medication, foam collars, physical therapy, or even trigger point injections. "The absence of abnormality on an X-ray does not mean there's an absence of reason to hurt," says Emory University professor of orthopedic (musculoskeletal) surgery John Heller, MD.